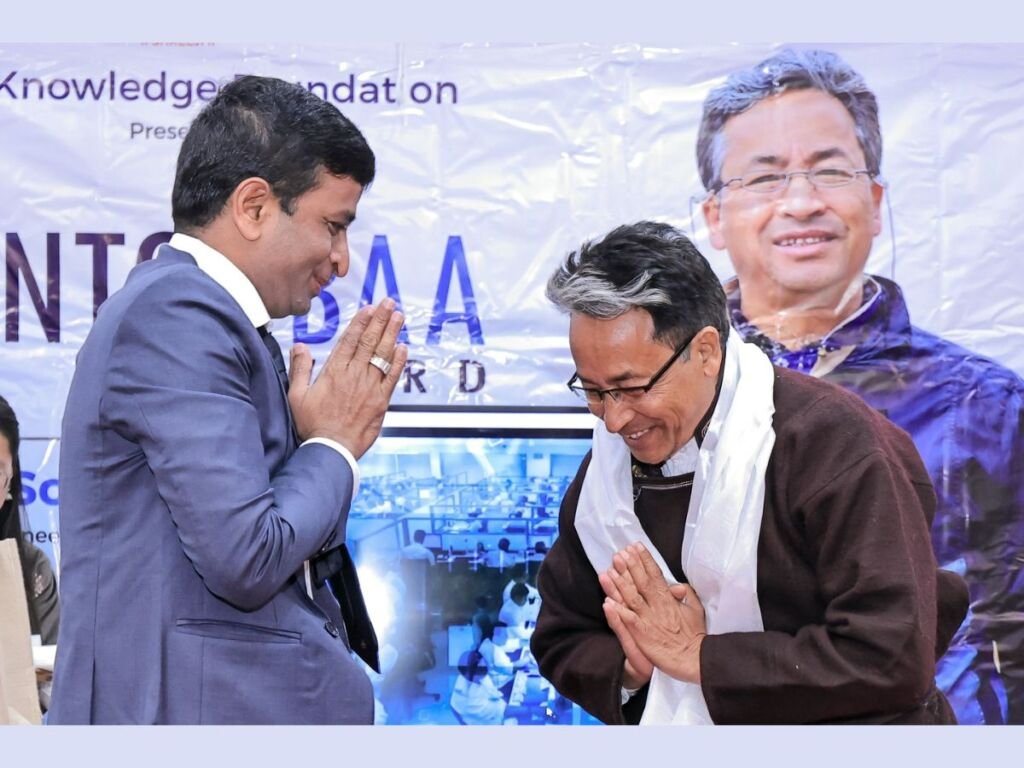 Surat (Gujarat) [India], April 19: The prestigious Santokbaa Humanitarian Award, an initiative of Shree Ramkrishna Exports (SRK) a leading diamond crafting and exports company, and its philanthropic arm Shree Ramkrishna Knowledge Foundation (SRKKF), has been conferred on a notable engineer, innovator, educationist and sustainable development reformist and Founder-Director of Students' Educational and Cultural Movement of Ladakh (SECMOL), Shri Sonam Wangchuk.
The award, which carries a cash prize of Rs. 1 crore, has been instituted in memory of SRK and SRKKF's Founder Chairman Govind Dholakia's mother Late Santokbaa Dholakia. The award was presented to Shri Sonam Wangchuk on the death anniversary of Santokbaa on April 10, 2023, at an award ceremony at Hotel Zen in Ladakh.
The award was presented to the engineer turned education reformer by the hands of First Lady of Ladakh, Mrs. Neelam Mishra, who was the Chief Guest of the function, and Shri Rahul Dholakia, Entrepreneur-SRK.
The Guest of Honour was HE Rani Sarla Chhewang. Mrs. Gitanjali JB, wife of Sonamji and Co-founder and Director of Himalayan Institute of Alternatives (HIAL), Advocate Mrs. Thinlles Angmo (elder sister of Sonamji) and his current and former students were also present on the occasion.
"I feel a sense of happiness and pride to learn that this humanitarian award has been instituted in the name of a mother. This award ceremony is a tribute to honour mothers and womanhood, which is why I have brought along the most important women in my life, my elder sister and my wife, who have helped me reach where I am. The award money will be dedicated towards the education of girl children and to lay the foundation to ensure diverse livelihood opportunities for the people of Ladakh," Mr Wangchuk said after receiving the award.
The selfless deeds and humanitarian values of the Late Santokbaa Dholakia have been a source of inspiration for Shri Govind Dholakia and SRKKF to support various humanitarian activities. Govind Dholakia believes in the philosophy of giving back to society and is supporting several social, education, health, environmental, and agricultural initiatives. He is actively associated with 30 educational, healthcare, and other charitable trusts.
He instituted the Santokbaa Humanitarian Award in his mother's memory in 2006. The award honors people working to support the Late Santokbaa Dholakia's ideals including hard work, positivity, care, love, appreciation, and development and is presented on her death anniversary. The previous award recipients include Tata Sons' former chairman Shri Ratan Tata, Nobel Prize winner Shri Kailash Satyarthi, Space scientist and former ISRO chairman Shri A.S. Kiran Kumar, philanthropist and Infosys Foundation Chairperson Smt. Sudha Murty.
Mr. Wangchuk is the inventor of the Ice Stupa technique that creates artificial glaciers used for storing winter water in the form of a cone-shaped ice heap and addresses the water crisis faced in Ladakh. He is also working to address other environmental challenges. The SECMOL campus designed by him runs on solar energy and uses no fossil fuels for cooking, lighting or heating. His works have made life easier for people in Ladakh, and he is truly an inspiration to people who want to make a difference in the world.
Mr. Wangchuk expressed joy at SRK's commitment to become net-zero by 2024, which is at least six years earlier than the 2030 goals set by the country or any Indian MNC.
"Gujarat is the entrepreneurial capital of India and Ladakh also faces all adversities in an enterprising way," Gitanjali J Angmo said noting the similarities of both the places while concluding the event.